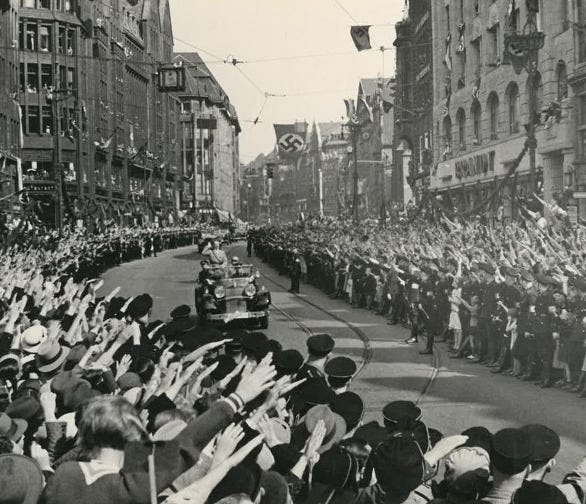 Duration: 3 hours
Price: 300 € / group
Max. 35 persons
Meeting Point: Hamburg Townhall
Description
Hamburg's period under Nazi rule remains to this day one of the darkest periods of the city's history. Come discover the many events that would lead to the devastating bombing of 1943 and learn about how this topic is dealt with today.
This tour is ideal for those who want to know the ins and outs of Hamburg under the third reich. This dark but facinating period has shaped the city we see today and is a must see tour for anyone interested in the period.
This tour will cover the following stops:
From democracy to dictatorship
1933 rise to power
The Sankt Nikolai Church
Architecture in Nazi Hamburg
Human Zoos
Concentration camp Neuengamme
The Bombing of Hamburg
Camouflaging the city
Nazi memorials to WW1
Hamburgs surrender
A culture of memory

*Please note we cover the topic of Neuengamme on this tour however to visit the camp itself a full day tour is required. For more information check out our other WW2 tours.


The tour will be a walking tour with a light activity level. A short break is included in the middle of the tour.
Top add-ons
Pick-up and Drop-off service
E-bike tour possible
Finishing the tour at a bar/restaurant in a WW2 bunker
Note: For these or any other add-ons or modifications please contact us directly.
Guests who like this tour often also enjoy the...